I'm linking up with Tina Muir and Confessions of a Mother Runner for Meatless Monday. Head over there and check out some of the great recipes they have.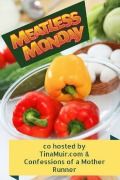 Last Thursday it rained all day here in SoCal! I know for most this is no big deal, but, as you may know, we are in such a crisis with the drought. It really does affect the entire country. California produces a very large percentage of the country's food, including most of the almonds and berries ( two of the ingredients in this recipe).
It could dump rain for weeks and we'd still be in in crisis, but like a menopausal woman, we need all of the moisture we can get. Bad joke? I can say that because I'm almost there.
I love how the rain cools everything down and, of course, the smell of rain is the best. Another thing I love to do is run in rain! I haven't done much of that since we moved here 3 years ago, so this girl is happy.
I ran a 7 mile tempo on Thursday, the day it rained. I ran 4 of the miles at an 8:10 pace. I was very pleased with this pace. It was a little surprising to me, because, as some of you might know, I'm coming off an injury — I haven't run in 7 weeks. I have been doing quite a lot of strength and using our spin bike to stay fit, so I'm thinking that paid off.
It's hard to believe, but my children only have a few short weeks of school left before we enter into our summer vacation. How did that happen? Weren't we just buying back to school supplies like a minute ago? I am looking forward to spending some time with them and I have a few fun activities and a trip planned for them, so we're looking forward to that.
The kids aren't out of school yet, so we still rush around here in the mornings trying to get everyone out the door. Because it's so chaotic here in the mornings, I try and prep as much as I can the night before: school lunches, breakfast, lay out my running clothes, etc. That's where this overnight breakfast dishes come in handy.
Although I love overnight oats… I get sick of them. I like to change things up, so I made some overnight chia pudding and wow… I'm in love. I love the texture (kind of like tapioca) and the snappy little seeds are a nice way to start my day. I don't like things too sweet, so I used just a small amount of maple syrup and berries to sweeten this quick and easy, make ahead breakfast.
What you'll need
1/4 cup of chia seeds
1 cup of Almond Milk or milk of your choice
1 teaspoon of maple syrup — more if you like it sweeter
1 cup of fresh raspberries
blackberries for the topping (optional)
Overnight Maple Raspberry Chia Pudding
Take 10 mins. the night before to prepare this overnight make ahead chia pudding.
Ingredients
¼ Cup of Chia Seeds
1 Cup of Almond Milk or milk of your choice
1 teaspoon of Maple Syrup (more if you like it sweet)
1 Cup of Fresh Raspberries
Fresh Blackberries for topping
Instructions
Place Chia Seeds, Maple Syrup and Milk in a container that can be stored in the fridge overnight. Mix well, cover and refrigerate overnight. Then take fresh raspberries and place them in a blender with 2 Tablespoons of water-- blend thoroughly to make a puree. Refrigerate in a separate bowl overnight as well. In the morning, stir the pudding mixture well and pour the puree on top of chia pudding. Garnish with blackberries and enjoy.
Easy Make Ahead Breakfast-Overnight Maple Raspberry Chia Pudding #fitfluential
Click To Tweet
How about you? Do you like running in the rain? Have you ever tried Chia Pudding?